Direction 1 – Video Surveillance Face Capture and Recognition System
The addition of an HD face analyzer to an existing HD surveillance system allows real-time dynamic capture and recognition of human faces appearing in video surveillance. Every face appearing on camera can be identified and matched to a preset blacklist, and an alarm message sent automatically to the right department or person.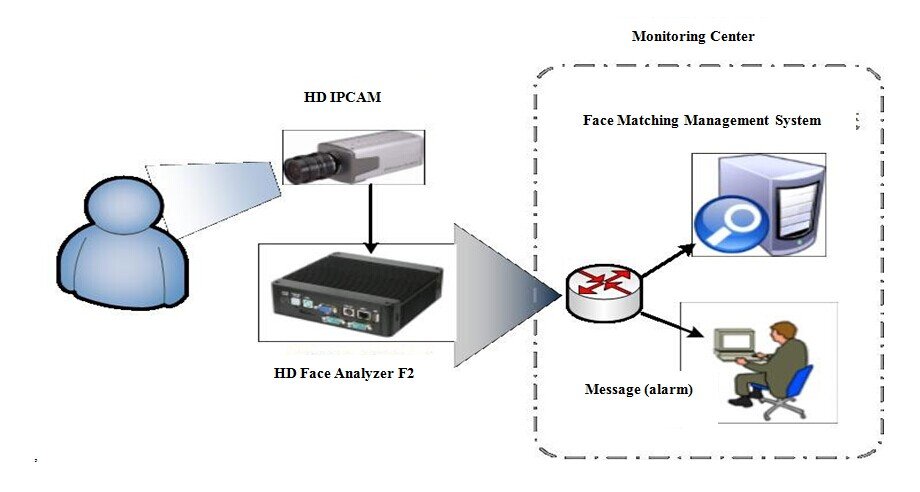 ◆

Conventional monitoring systems, e.g. residential complexes, apartment buildings, warehouses, schools, shopping malls, etc.;
◆

Safe city monitoring systems, e.g. bus/train stations, airports, docks, customs checkpoints, banking and financial systems, main city thoroughfares, highway interchanges, and public squares.
Direction 2 - Face Document Verification System
In this system, a photograph of the license holder is obtained via a document scanner or an ID card reader, and is then compared with the face of the person presenting the license to verify that they are one and the same - a good illustration of the use of face recognition technology to guard against document fraud.
◆

Banking service authentication: Credit card applications, large transfers, loans, loss reports, online banking.
◆

Administration service authentication: Social security processing, traffic violation procedures, notarization
◆

Other applications: hotel check-in, airport security, company recruitment
Direction 3 – Face matching cloud platform
This platform combines the rapid computing speed and data throughput advantages of cloud architecture with face recognition matching algorithms, accessing thousands of HD face analyzers or massive data volumes to quickly complete face matching and output the result.