一、System Introduction
The ReCon Biometrics mobile biometrics.com/en/index.html' target='_blank'>attendance system is designed to help businesses monitor the biometrics.com/en/index.html' target='_blank'>attendance of their field workers. The system is based on face recognition and GPS positioning technology, and transmits attendance information to a monitoring center over the 3G communication network. The monitoring center then collates this information into an attendance summary. The system is convenient, accurate and secure.
二、System Functions
1.Employee attendance recording: On duty, off duty, and overtime options are available for employees to choose from.
2. Employee scheduling: Automatic notification makes scheduling employee shifts possible. Multiple shifts can be set within the same day, while vacation dates can also be configured. The system automatically notifies employees of any attendance tasks to be completed.
3.Data recording: Effective data records make payroll management and viewing attendance data a breeze.
4.Statistical analysis: The attendance platform offers statistical analysis for easier comprehension of attendance data.
5.Report exports: System data can be monitored in real-time or exported by administrators to facilitate management.
6. Remote monitoring: The system works on local area networks, while remote monitoring and multi-branch management is also possible via the Internet.

三、 System Features
1.Accurate and unique identification: Faces cannot be copied or counterfeited, ensuring the accuracy of attendance information provided by the system.
2. Simple and convenient: Identification is fast and convenient, without the need to carry cards.
3. Non-contact: As there is no contact with equipment, hygiene fears can be cast aside, and the identification process does not incur staff antipathy.
4. Professional: Functions such as data queries, attendance management, staff scheduling, statistical calculations, report exporting and log queries are all easily handled
5. Remote management: Remote management can be instigated from the monitoring center.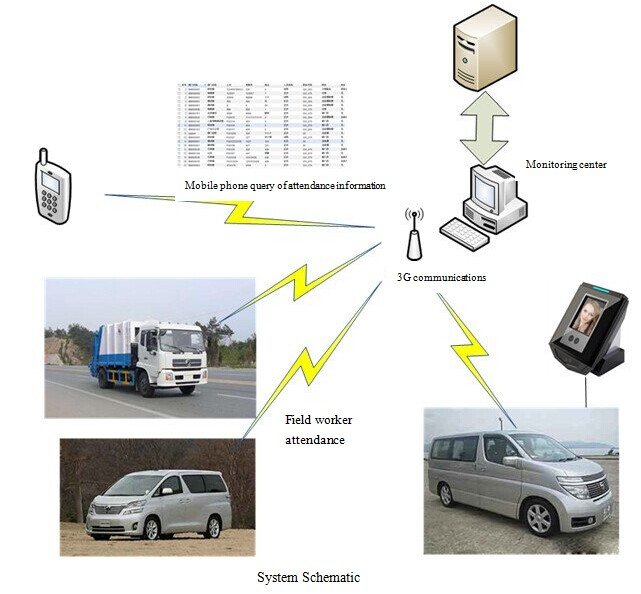 The face recognition terminal is fitted in the vehicle of the field worker, who can choose from different authentication options. Authentication information (including time, site, worker ID etc.) is sent over a 3G network to the monitoring center, which can use this information for real-time monitoring and attendance report generation. Attendance information can be retrieved on a computer or using a designated mobile phone. The system allows scheduling of shifts and setting of vacations, and personnel can be automatically notified of attendance tasks and duty times in advance via a 3G network.
四、System Flowchart


五、 Introduction to the Attendance Platform
Screenshot of the management platform
5.1 B/S Management Platform
The system's management platform is based on a B/S (Browser/Server) architecture design, which serves the decentralized management needs of large corporates with multiple branches in different locations, while allowing centralized control from head office. Users require only a browser and access rights to enjoy access to real-time human resources information at any time and place, providing the company with prompt and accurate analytical support for business operational strategy.
5.2 The attendance platform involves three key management modules:
1.Personnel management: this handles organizational structure management, personnel information management, employee transfer management, annual leave management and employee turnover management.
2.Attendance management: this module includes workforce management, attendance management, attendance machine data, leave management, overtime management, attendance data analysis, and monthly attendance report management.
3.System management: operating time settings, system enrollment information, system role management, and system user management.