RC10A: High-End Face Recognition Terminal

Specification

· Color: Black
· Length: 180mm
· High: 92mm
· Width: 138mm
· Weight: 365g
· Algorithm Version: Face Image V5.0
· Range of Adaptability to Lights: 0-20000LUX
· LCD:TFT,3.5 inch,Touch Screen
· Multiple Recognition Modes: Face Only;ID + Face; Card + Face; Password + Face; Card Only
· User Capacity:2000 Users
· Recognition Accuracy: >=99%
· Recognition Error Rate: <=0.1%
· Recognition Distance: 30-80 CM
· External Card Reader:ID/IC (Optional)
· Data Storage::500,000 Entries
· I/O Simple Switch:Support
· Wiegand:26/34 USB
· Data Import & Export: SD Card (Standard: 4G, Maximum:32G)
· I/O:2 Ways Out and 2 Ways In
· Network:TCP/IP(RJ45 Interface with Indicating Light)
· Power Supply: 12v 2A
Features
Via internet or 3G/4G networks, the product is able to apply centralized monitoring and diversity management modes to help users to achieve systemic access control and attendance management. The excellent management mode of this product guarantees the verification and excitation process of a company policy. And therefore it increases the effectiveness and efficiency and guarantees the competitiveness of a business. The system of this product has high adaptability. It is able to be functional as access control and attendance management terminal under LAN. Meanwhile it is also able to be operating under WAN to achieve large enterprise's needs. With the very handy system, management is able to remotely perform jobs such as Information Enquiry, Attendance Management, Employee Scheduling, Statistical Calculation, Report Exporting, Record Enquiry and etc.


Functions
The system is able to communicate to each other via networking, which increase its range of applications. Administrators are able to remotely supervise and permit particular user to obtain access to an entry.

● Multiple Authorization Level: System managers and users have different authorization levels therefore the user information can be well protected.
● High Accuracy and Reliability: Latest face recognition algorithm ensure that every face can be accurately recognized.
● High Stability and Low Energy Consumption: Use efficient and low power-consumption DSP processor. The system is able to be operated completely offline. Long run testing shows that the system works consistently stably. Meanwhile, it support environmental friendly auto sleeping mode.
● Simple Operation, User Friendly UI: TFT LCD touch screen with very user friendly GUI interface.
● Multiple Recognition Modes: Depending on user's preference, the recognition modes can be chosen from: Face Only, Password + Face, ID/IC Card + Face, ID + Face and etc.
● Intelligent Self-Learning: Automatically capture face features and self-learn the changes in user's hair style, skin tones, age and etc. The system can automatically update the database correspondingly to make sure every face is accurately recognized.
● Real-Time Records: The data is recorded at a real-time basis. Real-time records make it easier to be searched, identified, verified, printed and reviewed.

Application

Residence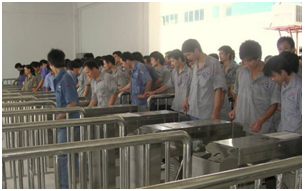 Enterprise